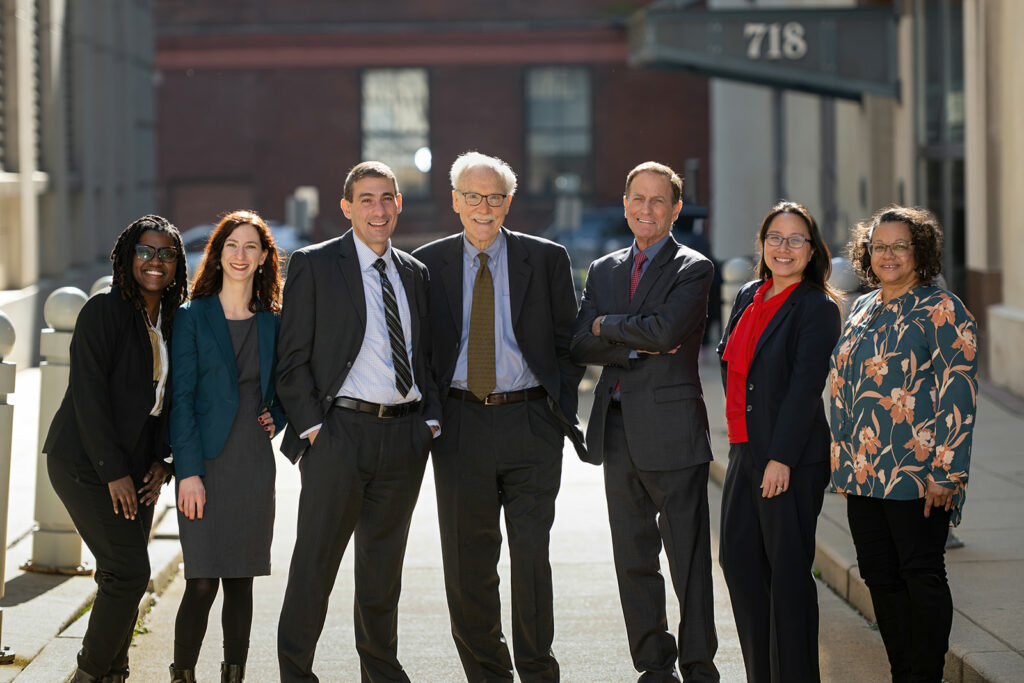 In September 2011, our firm celebrated the 40th anniversary of its founding by David Rudovsky and David Kairys, both of whom had started their legal careers as public defenders with the Defender Association of Philadelphia.  Their goal in 1971 was to develop a public interest practice in Philadelphia that would litigate civil rights and civil liberties issues and provide representation to those accused of crime.
In the early years of the practice, the firm litigated a number of landmark cases in the civil rights field. These included:
Jackson v. Hendrick, a class action lawsuit concerning conditions of confinement and overcrowding in the Philadelphia Prison System that provided a model for similar prisoner rights litigation across the country. Jackson was litigated for over 30 years and led to significant improvements in the prison system.
Philadelphia Resistance v. Mitchell, a case brought by anti-Vietnam war activists in Philadelphia against Attorney General Mitchell and FBI Director Hoover for their illegal attempts to arrest and otherwise punish protestors for their constitutionally protected political views and associations. The case led to a settlement agreement, one of the first of its kind, limiting FBI investigatory powers of persons exercising their constitutional rights. It also led to a related case, Mitchell v. Forsyth, in which the Supreme Court ruled that government officials who had been engaged in unlawful electronic surveillance of persons engaged in protest activity were not fully immune from a suit for damages.
The Camden 28, a case in which a number of persons charged by the federal government with conspiracy to destroy draft board records as a protest against the Vietnam War were acquitted by a jury on a then novel theory of entrapment and improper governmental influence.
Farber v. Rizzo, one of many cases filed against the Philadelphia Police Department for violations of the rights of citizens. In this case, we successfully obtained an injunction and damages for peaceful protestors who were arrested in Philadelphia at an event honoring President Nixon.
The membership of our firm has changed over the years, with three of our former colleagues having left the firm for academia, and one former colleague having become a Judge. Holly Maguigan, who worked with us from 1975 to 1985, is now a professor of law at New York University School of Law. Adam Thurschwell, who was with the firm from 1985 to 1988, has entered academia. In 1991, David Kairys took a position as a professor of law at the Temple University Beasley School of Law. And, Lisa M. Rau, who joined the firm in the late 1990s, left the firm in 2001 upon election as a Judge of the Court of Common Pleas of Philadelphia.  Ilene Kalman, who devoted her career to providing legal services to the poor, passed away in 1996.
The current members of our firm are: David Rudovsky; Jules Epstein, who joined the firm in 1990, and who is now of counsel to the firm after having accepted a faculty position at the Widener School of Law; Paul Messing, who joined the firm in 1993; Jonathan H. Feinberg, who joined the firm in 2002; and Susan M. Lin, who joined the firm in 2014.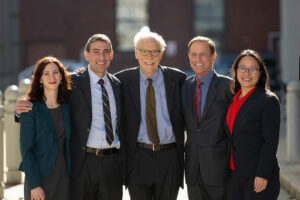 With these changes, the firm has expanded its focus on criminal defense litigation. Beyond representing individual clients in both state and federal court prosecutions, the firm has focused on litigating on behalf of inmates facing the death penalty and in cases involving unlawful searches and seizures. Additionally, we have continued to litigate significant cases involving police and other governmental misconduct as well as the rights of the homeless, immigrants, those accused of crime, protestors, political activists, and victims of racial or religious discrimination. A sample of these cases includes:
Police Misconduct
City of Canton v. Harris, in which the United States Supreme Court agreed with our argument that cities and counties could be held liable under the Civil Rights Acts in cases in which police or other officials violated the rights of citizens where the City had a practice, policy or custom that caused the constitutional violation. As a result of this decision, the government itself can be held accountable for a failure to properly train, supervise, or discipline its officers.
NAACP v. City of Philadelphia, a major class action, litigated with the ACLU, that resulted in systemic changes in the operation of the Philadelphia Police Department, including reform of the Internal Affairs Division, limits on racial profiling and other discriminatory police practices, enhanced training, and rigorous supervision of narcotics investigators. This case has served as a model for institutional law reform litigation in other parts of the country.
Bailey v. City of Philadelphia, a class action follow-up to the NAACP v. City of Philadelphia litigation addressing the systemic racially discriminatory practices of the Philadelphia Police Department in its use of "stop and frisk" practices.  After filing of the complaint, we successfully negotiated a consent decree that allows us as counsel to the plaintiff class the ability to monitor the Department's implementation of reforms aimed at eliminating discriminatory law enforcement practices and the use of demeaning stop and frisk tactics without appropriate legal cause.
Unlawful Convictions
Godschalk v. District Attorney, a case in which our client was exonerated by DNA evidence after serving 15 years in prison on rape charges of which he was completely innocent. Working with the Innocence Project, we first established an important legal precedent that persons convicted of crime were entitled to post-conviction DNA testing to determine their innocence. We also were successful in obtaining substantial money damages for Mr. Godschalk in a suit against the District Attorney who had refused access to the DNA evidence and detectives who had violated Mr. Godschalk's rights in their investigation of the case.
Doswell v. City of Pittsburgh, where our client, Thomas Doswell, had been arrested in 1987 and convicted on a rape charge and was exonerated by DNA evidence eighteen years later.  After demonstrating that Mr. Doswell had been convicted due to a misidentification caused by suggestive police practices and the failure of the police to disclose exculpatory information, we successfully negotiated a settlement for Mr. Doswell totaling nearly $4 million.
Criminal Justice
Commonwealth v. Martin, a case that led to a decision of the Supreme Court of Pennsylvania applying state constitutional principles to strictly limit situations in which dogs would be used to search for narcotics.
Davis v. City of Philadelphia, a class action lawsuit which stopped the custom and practice of incarcerating indigent traffic violators without due process and equal protection of the law in Philadelphia Traffic Court and resulted in the release of dozens of persons who had been unlawfully incarcerated.
Graham v. City of Philadelphia, a class action lawsuit which stopped the custom and practice of using pretextual criminal charges to arrest homeless persons on the streets of Philadelphia.
Prisoner Rights
Bowers v. City of Philadelphia, a follow-up case to Jackson v. Hendrick, where, in 2006, we again successfully challenged overcrowding and other unconstitutional conditions of confinement in the Philadelphia Prison System and obtained an injunction against these unlawful practices.
Williams v. City of Philadelphia, a more extensive follow-up to the Jackson and Bowers cases, seeking relief for the entire class of prisoners held in the Philadelphia Prison System from overcrowded conditions, including the use of "triple cells" (housing three prisoners in cells meant for two).  After the filing of our complaint and the Court's decision certifying the case as a class action, we negotiated a settlement allowing for continued monitoring of the City's efforts to reduce population.  Due to a rapidly increasing inmate population, the case has been recently reinstated.
Rosen v. City of Philadelphia, a class action resulting in a far-reaching consent decree providing for the monitoring of the Philadelphia Police Department's practices in providing proper medical care to arrested persons with diabetes.
Grange v. Montgomery County, a civil rights action on behalf of the estate of a deceased prisoner concerning the failures of the Montgomery County Correctional Facility to provide care for documented serious medical needs.
First Amendment
Chosen 300 Ministries, Inc. et al. v. City of Philadelphia, an action on behalf of religious organizations providing free meals to homeless persons on the Benjamin Franklin Parkway seeking to enjoin the City of Philadelphia from implementing a regulation forbidding the provision of free meals.  After a full hearing, the Court granted the requested injunction and upheld the rights of the plaintiffs to engage in their religious practice of serving meals to those in need.
School District of Philadelphia v. Doe and Roe, an action in which we represented public school students in successfully modifying and dissolving an injunction that had been issued in connection with protest activity directed at the privatization of the Philadelphia school system.
Lancaster v. SEPTA, a civil rights action concerning police interference with the First Amendment rights of street musicians.
Discrimination
Project Home v. City of Philadelphia, an action brought on behalf of the leading homeless advocacy organization in Philadelphia under the federal Fair Housing Act to require the City to permit construction of a multi-service center for homeless persons. A federal court ordered the City to issue the necessary permits, and, as a result, the project was completed and thousands of homeless persons have found decent housing, training, and medical services.
NAACP v. Reading, a matter involving civil rights in the employment context which resulted in a consent decree requiring the City of Reading to take affirmative actions to increase representation of racial minorities in the City's Fire Department.
Immigration
Zubeda v. Ashcroft, an immigration matter concerning a Congolese woman's claim under the United Nations Convention Against Torture that resulted in a ruling by the Third Circuit Court of Appeals that is now one of the leading decisions on the legal standards to be applied to such claims.
Wiltshire v. United States, a case on behalf of a United States Citizen whom immigration officials believed, without proper justification, to be an "alien" subject to detention and removal from the United States.  The case resulted in a significant cash settlement for Mr. Wiltshire who was detained in immigration custody for more than three months before officials acknowledged that he is in fact a citizen.