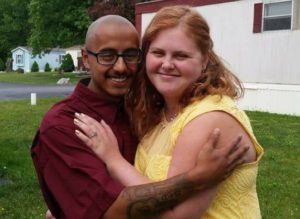 KRMFL and the ACLU of Pennsylvania filed a lawsuit today against a magisterial district judge and a court officer who detained a lawful permanent resident from Guatemala on his wedding day.
On May 23, 2017, Alex Parker, who was born in Guatemala and has lived in the United States since his infancy, and Krisha Schmick, a U.S. citizen, arrived at the office of Magisterial District Judge Elizabeth Beckley for a joyous wedding. Instead of performing the ceremony, Beckley detained Mr. Parker and called Immigration and Customs Enforcement (ICE). She claimed that Mr. Parker's Guatemalan consular identification caused her to suspect that Mr. Parker was present in the country illegally.
The lawsuit, which is based on the U.S. Constitution and federal civil rights law, alleges that Beckley and the court officer engaged in unlawful detention, interference with the right to marry, and discrimination based on Mr. Parker's race and national origin.
"Krisha and I love each other and wanted to go forward with our marriage," Mr. Parker said. "It was unacceptable and scary for us to be treated differently because I'm Latino and was born in Guatemala."
After Mr. Parker's prolonged detention, ICE arrived and verified his lawful permanent resident status. What should have been a celebration turned into an awkward and hostile affair, with Beckley presiding over a wedding that will forever be tainted by discrimination.
The lawsuit was filed today in the United States District Court for the Middle District of Pennsylvania in Harrisburg. Parker is represented by Golnaz Fakhimi, Molly Tack-Hooper, and Vanessa Stine of the ACLU of Pennsylvania; Jonathan Feinberg of Kairys, Rudovsky, Messing, Feinberg & Lin LLP; and Seth Kreimer of the University of Pennsylvania Law School.
To read the complaint, press release, and blog post, please visit the ACLU of PA's website.