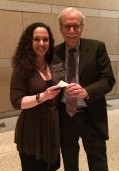 On April 17, 2014, the Philadelphia Chapter of the Federal Bar Association, Criminal Law Committee presented the Clifford Scott Green Bill of Rights Award to KRMF partner David Rudovsky.
The award, given on a bi-annual basis, honors local members of the Bench and Bar whose conduct most exemplifies the principles upon which the 
Bill of Rights was founded.  The award is named for the second African American Judge appointed to the U.S. District Court for the Eastern District of Pennsylvania, who was widely known for his fair and even-handed approach to the law.  In prior years, the award has been presented to luminaries in the Philadelphia bar, including the late Honorable Louis H. Pollak.
After receiving the award from Criminal Law Committee Chair Mariana Rossman, Mr. Rudovsky addressed the crowd of criminal law practitioners and judges about critical areas for reform in the criminal justice arena, including the epidemic of mass incarceration and the vast racial disparities in criminal law enforcement.